POLICY NO. 1 BIRLA GROUP'S PHILOSOPHY, POLICY CONCEPT, AND DIRECTIVE PRINCIPLES OF HUMAN RESOURCES.
PHILOSOPHY OF BIRLA MANAGEMENT CENTRE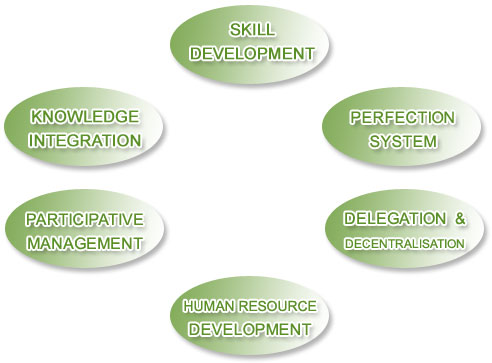 PHILOSOPHY BEHIND THE LOGO

The philosophy of the Birla Management centre is beautifully captured in its symbol. The logo has been designed to reflect the concept of group dynamics and group synergy six symbolic persons, one in dark blue and five in light blue,denote one group with various constituents of the group, All fusing their energies and knowledge to form a strong nucleus. The skills of the units merge together and radiate outwards more forcefully.

The arrows pointing inward denote pooling of resources and knowledge.The arrows projecting outwards reflect the dynamic expansion and growth the various units of the group in various industries, globally.

Furthermore, the arrows also symbolise the six specific steps aimed to our motto.

                   Excellence and perfection in all spheres of management by continous

THE SIX SPECIFIC STEPS TO ACHIEVE MANAGEMENT GOALS
Participative management by consensus & consultation through (PMC)
I Management committees
II Shop floor committees
III Quality circles.
Knowledge integration programme (KIP).
Skills development programme (SDP).
Systems perfection (SP.)
Delegation & Decentralisation (DD).
Human resources development (HRD).
The soft and subdued colors have been specially chosen to reflect the low key profile adopted by the group.
Let us keep the wheel moving
POLICY NO. 2 HUMAN RESOURCES MANAGEMENT POLICY & MANUAL PRINCIPLES
The basic human resources management policy is to conduct its relation with its employees in such a way that the company will have at all times and adequate force of competent and satisfied employees to conduct all its operations effectively and harmoniously in order to achieve costomer's satisfaction at the end.
The human resources management policy is prescribed on the basic of policies formulated by its top management. Such policies are tools of management to understand the consequence of activities and also help all employees understanding.
PURPOSES :
The policy is a general plan of action that serve as a guide line
The policies make up the framework of management for following up and decisions.
When policies are statement of what management wants to do in running the organization, management rightly expects strict adherence to them.
For the way or guideline for implementing the personnel Management activities for instances employee recruiting, hiring, separation, fringe benefits, training, development, evaluation, demotion, transfer, wages and salaries, grievances, discipline, medical care, retirement, hospitalization, recreation, employee's relations and other.
The operating management and supervisor at all levels should know what top management want, and it has to be written clearly in order to avoid misunderstanding.
When the policy and procedures needs to be clearified, the human resources department will have to administer, implement and interpret policies and take action effectively.
The policy and procedures is not only to be prescribed by top management but also by the law, culture and employment condition agreement with Labour Union as well.
THE PRINCIPLES OF HUMAN RESOURCES MANAGEMENT POLICIES.
EMPLOYMENT
The company will try all possible efforts to employ the most qualified and competent employees and retain them as long as possible. Selection and screening will be made on merit basis and unqualified and incompetent applicants will be eliminated.


COMPENSATION
The company shall pay fair and equitable compensation in accordance with the principle of the employee's duties and responsibilities, and satisfactory performance, by maintaining its equivalent rate of compensation in comparison to the same or similar type of industry following the Laws, Local practices and financial stability of the company.


PROMOTION / TRANSFER
The company to promote the employee from within, the qualified and deserving employees shall be promoted to higher positions whenever vacancies occur or to be transferred to jobs where their talents could be best utilized for higher responsibilities and adequate compensation.

An employee of the company either thru initial appointment or promotion will have to undergo a trial period of 120 days.

A Promotion Means : A movement of an employee to higher level involving more difficult duties or increased responsibilities and a higher pay, higher status or offering better privileges, thus all promotion will be based on merit, good performance and loyalty to the company, such a promotion may be made within the same department or from one department to another.

A Transfer Means : The movement of an employee from one job to another requiring approximately the same degree of skills, duties and responsibilities, and other educational qualification with the same pay scale within the company.

The selection will be made on the basis of qualification for the j