Thailand has been and continues to be a favoured investment destination for TRC, given its continuous infusion of funds and capacity expansions here. Incorporated in 1974, Thai Rayon commenced commercial production in 1976, beginning with just an annual capacity of 9,000 tons and a single line. Over the years, Thai Rayon has achieved a 17 fold growth scaling up capacities to 150,000 tons.
In the last three years itself, encouraged by the Board of Investment, the Company has invested baht 4,835 million. Its 4th, 5th and 6th production lines, augmented its capacity by 70,000 tons at a capital expenditure of baht 2,453 million. Additionally, up-gradation of production line no. 2 with new technology to produce Modal Fibre and other support services entailed an investment of baht 1,616 million. And in August 2008, the Company setup a new plant to produce Carbon Di Sulphide (CS2) at a cost of baht 766 million in Saraburi.
After catering to the total domestic demand of the Thai textile industry, Thai Rayon exports over 60% of its VSF to more than 20 countries worldwide. The VSF marketed under the brand "Birla Cellulose" meets the stringent quality expectations of customers in USA, Brazil, Europe, Turkey, Israel, South Korea, Philippines, Pakistan, Bangladesh, Sri Lanka and Syria. For the financial year ended 30th September 2008, Thai Rayon's total sales revenue hit Baht 10 billion of which exports were at baht 5.2 billion, registering a growth of 40% over the previous year. TRC's high-end speciality product Birla Modal, recently launched, has met with an overwhelming response both in Thailand and from its overseas customers.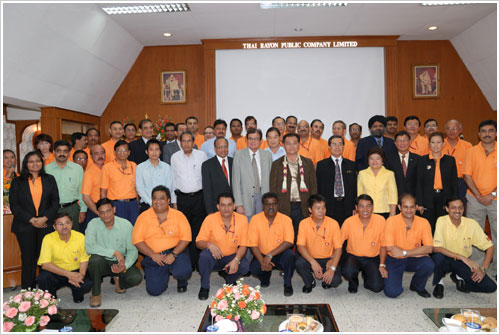 TRC continues to adapt policies, commitments and business strategies to effectively integrate environmental, social and economic considerations. Transcending business, Thai Rayon believes implicitly in being a good corporate citizen. It reaches out to different segments of Thai society in a multitude of ways in the field of education, sustainable livelihood, childcare and quality of life programmes that reflect the best of Thai values. The Company supports old age homes, orphanages, computer learning, potable water supply system, English speaking classes & Thai Kid library in Angthong.
In collaboration with the other Aditya Birla Group Companies in Thailand such as, Thai Acrylic Fibre, Thai Carbon Black, Indo Thai Synthetics and Aditya Birla Chemicals Limited is setting-up the Aditya Birla Knowledge Centre. The Centre to be inaugurated sometime in July this year is being setup in Kaengkhoi, Saraburi. At the Centre professional training will be given in welding, electronic and electrical repairing, household appliances repairing to the under served sections of society. The Centre will also conduct training classes in tailoring and computers education. The Centre in being setup at an initial cost of baht 5 million. For the first two years the Aditya Birla Group of Companies in Thailand will bear its running cost.
Thai Rayon's deep commitment to Thailand and its growth is evident from its substantive contribution to Thailand's economy and society. Reckoned as an integral pillar of the economy of the Angthong province, the Company has an employee strength of 1,000 besides generating indirect employment for 4,000 additional people.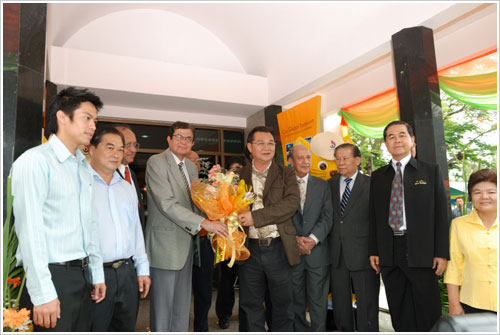 Thai Rayon has a consistent track record of operating a profitable business. For the financial year ended 30th September, Thai Rayon paid baht 477 million in corporate taxes and personal taxes.
Importantly, apart from driving its core business growth and being an exemplary corporate citizen, Thai Rayon has promoted major industrial projects of the Aditya Birla Group in Thailand namely, Thai Carbon Black Plc., Thai Acrylic Fibre, Aditya Birla Chemicals along with Yarn Spinning in Indonesia, two pulp mills in Canada and a VRSF mill in China.