Our Policy & Strategy

Our policy is to "To actively contribute to the social and economic development of the communities in which we
operate. In so doing, we aim to build a better, sustainable way of life for the weaker sections of society and raise the country's human development index". The Company is a firm believer in its core values and recognizes that, in order to succeed in today's competitive business world, the Company must fulfill its multiple responsibilities towards multiple of stakeholders. The Company believes that, besides producing solid financial benefits to its shareholders, it should maintain the dynamic relationship with its stakeholders, both local and global. Corporate Social Responsibility (CSR) is a key component of the Company's business strategy. Throughout its history of over 3 decades, the Company has worked diligently in implementing programs and practices that reflect our commitment and care. Focus is on all-round continuous development of the communities through sustainable economic development around the plant locations. Projects and Activities are planned through a participatory need assessment of the communities around the plants. This enables us to widen our reach to a larger section of society. Our partners in development are government bodies, district authorities, leaders of villages and the end beneficiaries the villagers.

Our Focus Areas

We consider ourselves an integrated part of society, which rewards us with respectable returns on our investment. Our knowledgeable solutions and beneficial actions to contribute to community welfare & development help create value for the society at large. Our social responsibilities criteria span in seven key areas and our single-minded goal here is to deliver superior value to our customers, shareholders, employees and society at large. Our focus areas are:
1. Organizational Governance
2. Labor Practices
3. Environment
4. Fair Operating Practices
5. Community Development
6. Consumer Issues
7. Community involvement and development
Some of the key Social Responsibility Programs being carried out by company are as follows:

1. Education
1.1 Rice for lunch in schools
1.2 General magazine and books to communities
1.3 Scholarships
1.4 Activities on National Children Day
1.5 Distributing Educational and Sport Material
1.6 Repairing and Maintenance of Schools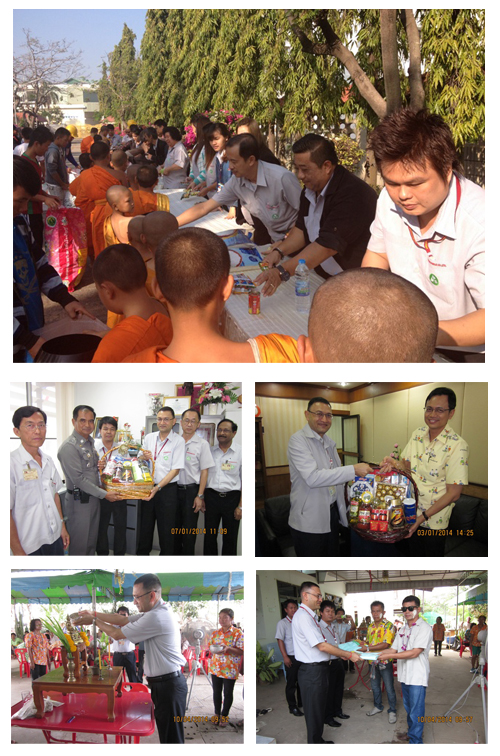 2. Religious
2.1 Religious Day activities

2.2 Repairing and Maintenance of temples

2.3 Donations on special occasions
3. Health and family welfare
3.1 Medical aid boxes

3.2 Health training and awareness

3.3 Safe drinking water tanks

3.4 Mother and child health care training

3.5 Health checking for old age people

3.6 Community support during natural disasters
4. Infrastructure assistance
4.1 Kids Library

4.2 Children development center
5. Social causes
5.1 Tree planting

5.2 Red Cross Day Activities

5.3 Factory visit for community members

5.4 Rehabilitation of destitute people